Length Of Time
+
Surge Of Fury
+
Storm Upon The Masses (ex Crawlspace)
+
Crucified
+
Chain Reaction
Hardcore / Metal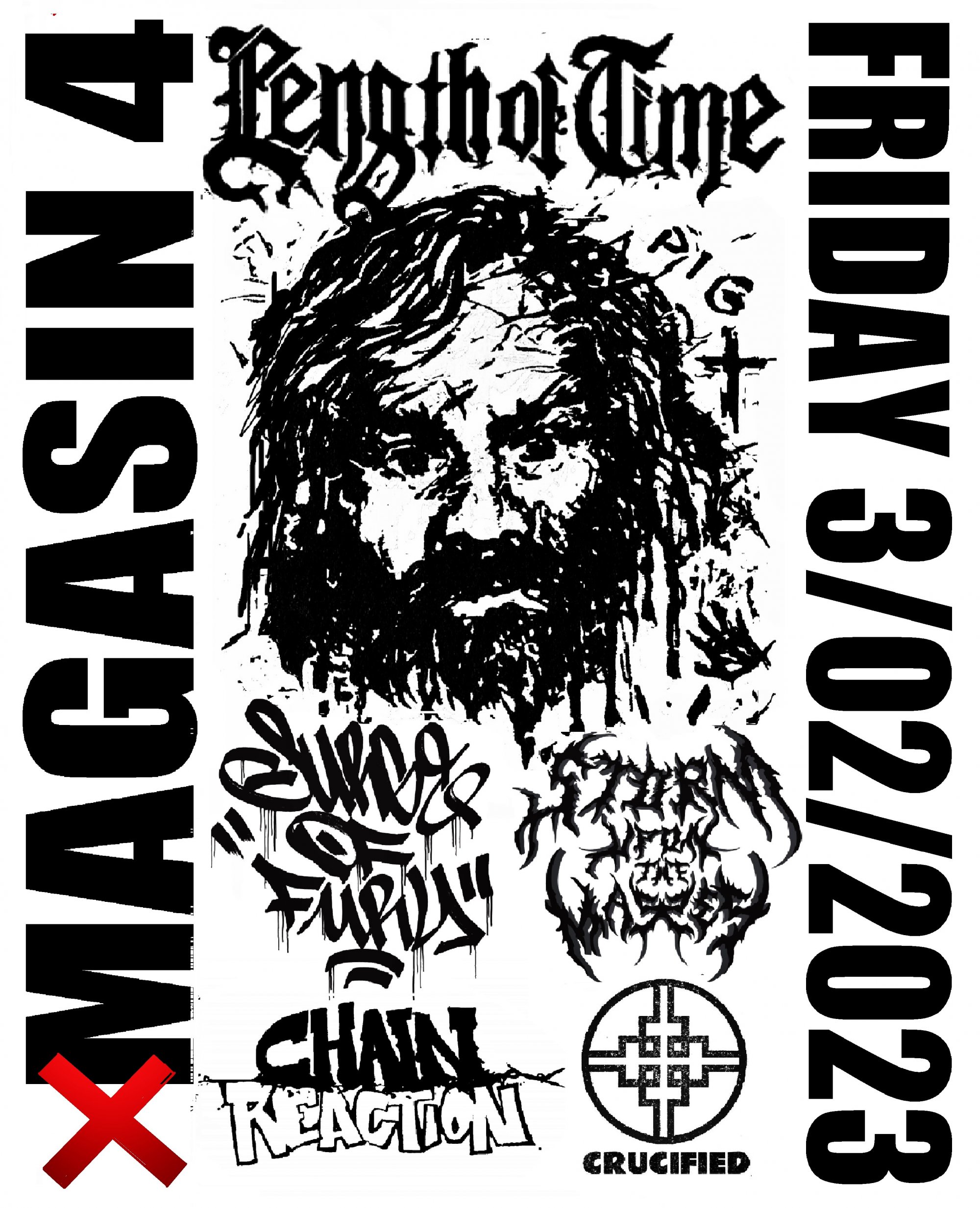 + more tba
!!! Event Cash Only !!!
»
Length Of Time
(Metal / Hardcore)
Since 1997 LOT has covered Europe and the rest of the world (USA, Iceland, Canada) supporting bands such as All Out War, Cold As Life, Biohazard and Morning Again, as well as played numerous festivals like Pukkelpop (B), Evilfest (UK), European HC Party (NL), Hellfest-Syracuse (USA), Superbowl of HC (F) and Goodlife Summer Fest (B).

On their first 3 albums their vision of the world is depicted as a dark and pessimistic universe, their ideas and lyrics clashing with the usual clich..s and dreamers of the hardcore scene.

Length Of Time's music is full of true background metal influences, allying with the sounds and the heavy weights of heavy metal, who are without mention Black Sabbath, Alice in Chains and other geniuses with obscure tendencies.

For 2003 Length Of Time puts their stamp on a style, which marks the end of a quiet year, spent preparing and recording their latest album "ANTIWORLD", which contains 10 tracks, exploring different themes, may it be utopia (rock 'n' roll, attitude, showbusiness,...) or devastation (globalization, war, society,...), embracing each human being.

"ANTIWORLD" stands for a symbol, well adjusted to our era, which we are free to define ourselves. The mixing and production was assigned to Andr.. Gielen (Channel Z..ro, Deviate, Asphyxia,...) and Philippe Renotte, who have captured the strength and freshness of LOT, available to them on one single, unique album "ANTIWORLD".

While the band was on the road with Suicidal Tendencies, Madball, Ignite and more, as part of the 2003 Eastpack Resistance Tour, "Antiworld" got released on Roadrunner Records in France.

After being 2 years and a half on hiatus, the band has taken the way back to the stages...
...
»
Surge Of Fury
(Hardcore)
Formed in Liege, Belgium, back in 1997, SURGE OF FURY first came together with no other aims apart from to enjoy playing together. Over a decade later, through line-up changes and various releases, the band have never strayed from the path they have chosen, and never will. Not motivated by fame, money or anything other than the passion they feel, not swayed by criticism or seeking anyone's approval, SURGE OF FURY have only ever followed their own hearts. Although the band's roots and influences in heavy, aggressive hardcore are obvious, their approach to song writing is anything but - SURGE OF FURY's arrangements are far from typical, and always capable of keeping listeners on their toes with the way an ultra heavy, double-bass driven dance part can clobber you out of nowhere, or the fresh and imaginative twist they add to the standard hardcore song structure. Nevertheless, there is plenty in their music to prove that the band also excel at creating straight up raging ultra fast hardcore, with harsh bellowed vocals and furious group backups. With their combination of fast, manic energy and off kilter staccato heaviness, it's clear that SURGE OF FURY have sought to innovate rather than clone anything that has come before them. Honed into a tight and experienced unit by years of playing together across Europe, the band remain bonded together by the music they love, and have seen many come and go while they have continued to hold true.
...
»
Storm Upon The Masses (ex Crawlspace)
(Death Metal / Metal / Brutal death metal)
STORM UPON THE MASSES Brutal Death Metal Zonhoven Belgium
...
5 bums way past their youth influenced by 80's schizophrenia and doomy paranoia.

OLAV FOREVER
...
»
Chain Reaction
(Hardcore / Metal)